A Day in the life of an...Ambassador, Dato' Aminahtun Karim
Jan 10, 2023
A day in the life of an Ambassador:
"Passion | Perseverance | Patience"
Ambassador Dato' Aminahtun Karim (Ami) was born in Malaysia. In her early 60s, she and her husband have four grown up children who have moved out of the family home. Ami served as a career diplomat for the Malaysian government for over 36 years, often juggling her career aspirations with the needs of her family. She gained much international experience and had a fulfilling career in line with her passion for diplomacy and "cross-cultural understanding". Her years in the Foreign Service took her to many countries, including being the Malaysian Ambassador to Ukraine, Croatia and Canada. Ami went into mandatory retirement at the age of 60. However she still has much to give, and consequently founded a training and talent management consultancy, ACOVA, alongside her husband. He was her most ardent supporter throughout and still is.
Read on to find out more about Ami!
My typical day when I was working was to get up around 6:30am, waking my children up and getting them ready for the school day. Then I would insist on the family having breakfast together before driving off to work. During our first tour in Canada my husband went back to college. My responsibility was to drop my daughter off at playschool before going to work. At lunchtime, I'd pick up my child from playschool, take her home, then go back to work. Usually, I got home at 6pm.
Reflecting on my earlier life growing up, my dad was a stickler for having tea every day at around 4:30pm. This was a tradition he must have picked up when he was working with the British administration. I myself still like tea in the evenings and would sit down with my husband for a cup after getting back from work. We usually had dinner rather late after 8pm. After playing with and attending to the children I'd normally be in bed by 10:30pm, spending another hour or so reading to take my mind off work.
As part of a big Malaysian government drive to help qualified and promising young Malaysians to get ahead in life, I was given a scholarship which fully funded my studies at the top Malaysian university. Upon graduation I joined the civil service. From the beginning I was quite clear that I wanted to work in the Foreign Ministry, so when I received the job offer I agreed without even a blink of an eye. I was drawn by the opportunity to travel and wanted to fulfil my childhood dream of seeing the world.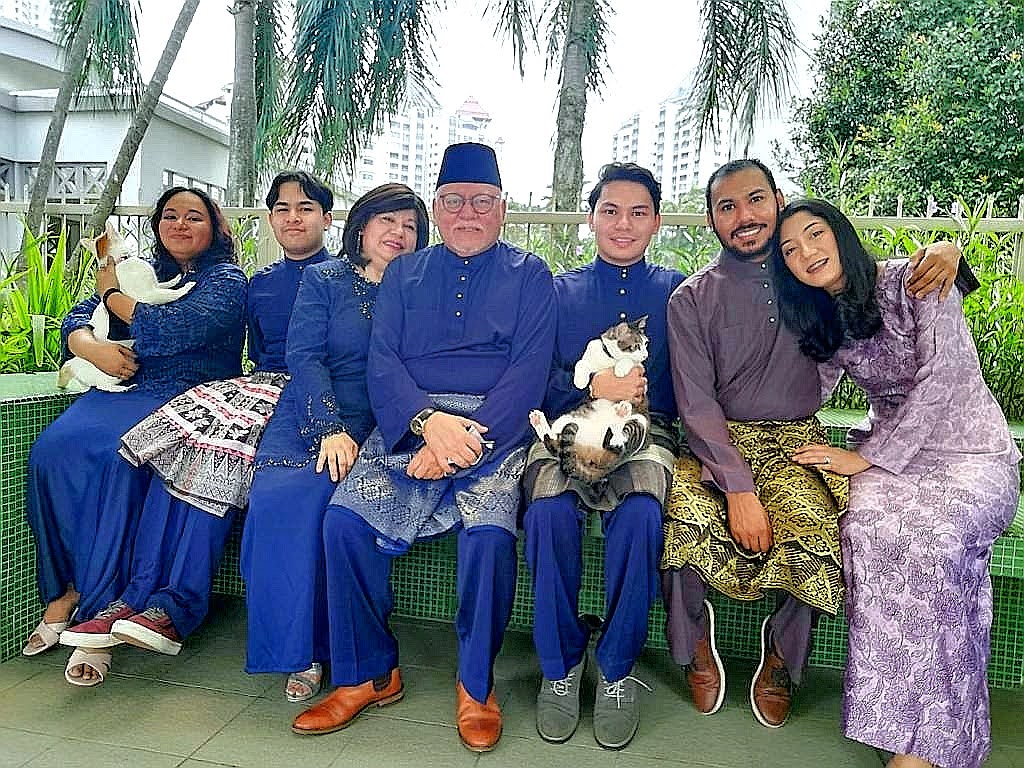 Ami with her family
While in the civil service I underwent many training programmes. The very first one lasting a year was truly demanding and memorable. It consisted of various modules meant to toughen us up. We had to go through military training, police training, an outward bound school and lots of other physical activities. This in addition to all the other academic courses covering domestic and foreign policy, administration matters plus soft skills.
Looking back, the whole preparatory course was well designed and meant to prepare us to be well equipped civil servants. The military training for example was intense, where we were treated like army recruits. Exercises, marching, handling weapons and such activities. It was the same when we trained with the police. It was so that we would understand and appreciate what the uniformed components of the civil services go through.
There were 180 of us trainees in total and we were divided into 4 groups. That meant there were 45 trainees per class. In terms of the gender mix, there were 36 women in the whole cohort. Although we made up a small number, we women more than held our ground. I didn't personally experience any discrimination from my male counterparts. They were generally accepting of us as equals and acknowledged that we had a right to be there.
Dato' Ami
Serving in the Foreign Ministry in the '80's was quite a challenge. I certainly experienced some unconscious bias in particular that women could not succeed in a career in diplomacy and be good diplomats. For a start, being a married woman with children there was a presumption that I wouldn't want to go on assignments abroad. Once when my first child was about 6 months old, I boldly approached the Head of Management and asked to be sent abroad. My male counterparts in the same batch on the other hand had already been assigned abroad without having to request. These kinds of challenges did nothing to deter me from pursuing my passion for the job. I stayed the course and completed a long career as a diplomat for my country.
A significant milestone in my life was being appointed Malaysia's Ambassador to Ukraine in 2004 and to establish the Malaysian Embassy in Kyiv. Coming from a distinctly different country and culture, I experienced a total culture shock both professional and personal. This particularly as I had brought along four school aged children at different ages and grades, and we had to start from ground zero to get the Embassy up and running. Challenges abounded and it was very stressful trying to fulfil my mandate to promote and strengthen relations between Malaysia and Ukraine. Facing these challenges head-on with the support of my husband and family, we eventually settled, learnt the culture and grew to love Ukraine. I subsequently was assigned to helm more Malaysian Embassies namely in Croatia and Canada.
"I think the world would be a better place if we could all understand each other.
We need to throw all our prejudices about different peoples and cultures out the window.
We need to be more mindful."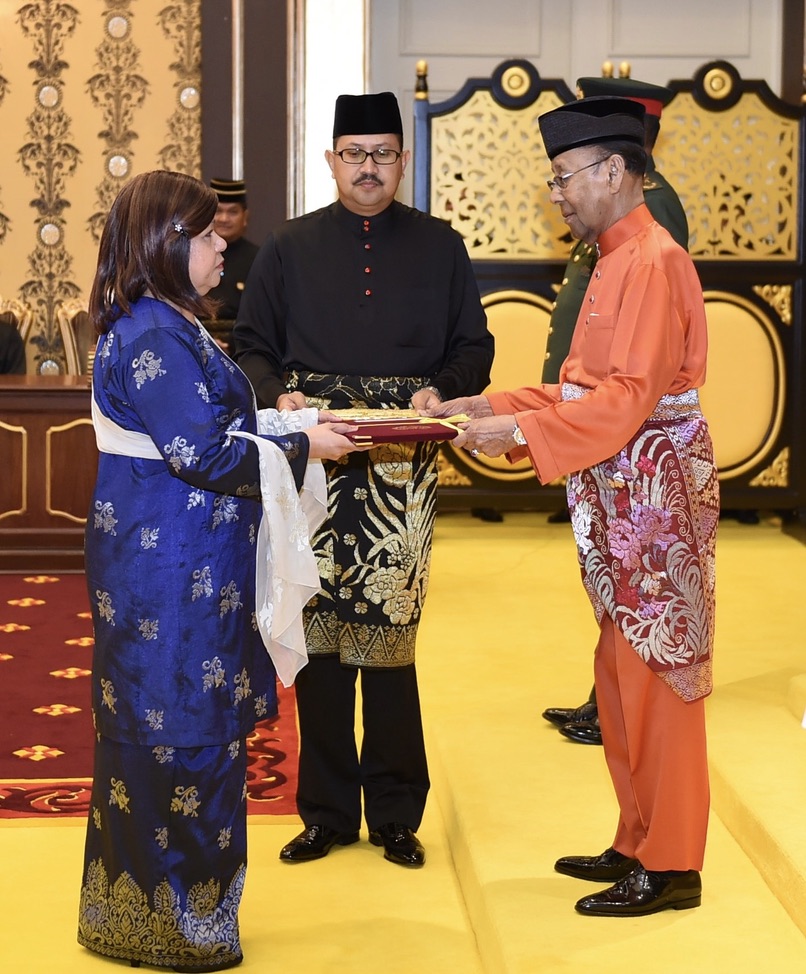 Ami receiving the Letter of Credence from the King of Malaysia
Looking back, my long career, propelled by passion, perseverance and patience was totally worthwhile. I would do it all over again for the value it brought to me and my family. I truly cherish that I was awarded a medal "The Order of Duke Branimir" by the President of Croatia for developing closer ties between Malaysia and Croatia, I was hand-picked by Malaysia's Foreign Minister to serve as Malaysia's High Commissioner to Canada, and above all to be the first Malaysian Ambassador to Ukraine. And I am blessed by a supportive husband and family.
Career success for me is knowing your goal and actually achieving what you set out to do. It is never giving up in the face of challenges, staying the course and being determined. I was fortunate that from the very beginning I had the goal that I wanted to go all the way in the Foreign Ministry, reach the pinnacle to be an Ambassador and serve my country well.
For more information about Ami and her company, ACOVA, follow the link to the company website below:
Stay connected with news and updates!
Join our mailing list to receive the latest news and updates from our team.
Don't worry, your information will not be shared.
We hate SPAM. We will never sell your information, for any reason.