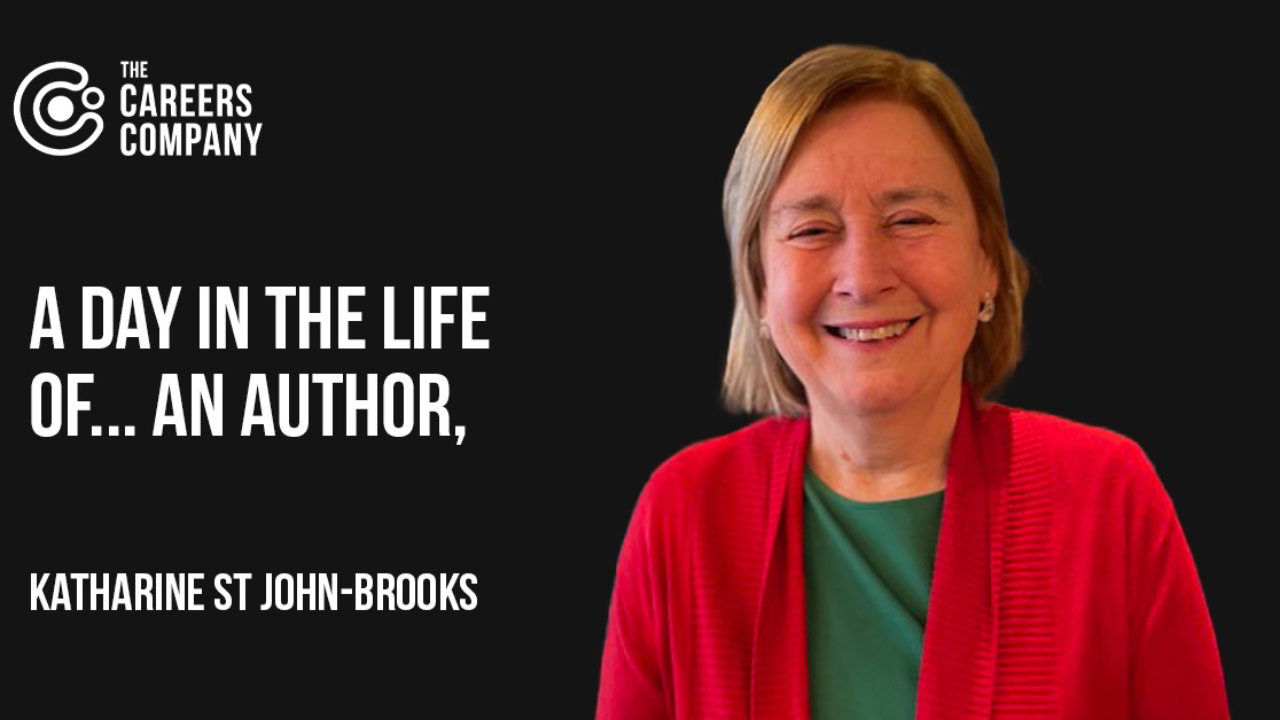 A Day in the life of an...Author, Katharine St John-Brooks
Jan 26, 2023
Day in the life of a…Novelist:
"Right time, right place!"
Katharine St John-Brooks has many strings to her bow. At 70 years old she has had three careers plus done lots of voluntary work running alongside her paid work, and not to forget the responsibilities of child rearing. Married with three grown up children, Katharine is a confirmed Londoner, ever since she moved there from the West Country at the age of 18. Civil servant, management consultant, executive coach and now novelist, this is an "exciting time" for Katharine. She brings her vast working experience, as well as her infectious enthusiasm, to bear on her first thriller which she is in the process of launching, drawing on her time both as a civil servant working with ministers and as a coach.
Read on to find out more about Katharine!
Career success has meant different things to me in the different stages of my life. So in what I think of as my first of three careers - in the civil service where I worked for 21 years (1975-1996) - success really meant making it into the senior civil service. It's a hierarchical organisation and therefore getting as high up as quickly as possible was what one wanted to do. But success also meant having high status jobs - a role in a sexy policy area where you had lots of contact with ministers was always considered desirable.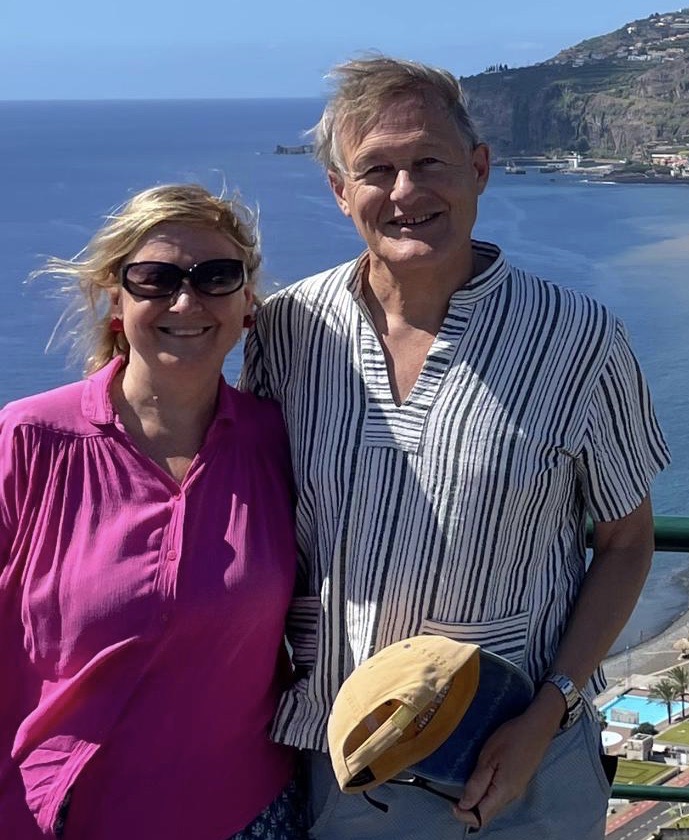 Katharine pictured here with her husband on holiday
In my second career as a management consultant (1996-2003), running my own business, success to me meant earning at a level at least as high as what I'd left; expanding my client base over time; getting repeat business and successfully combining all that with child rearing. In my third career as a freelance executive coach, which I did for 16 years (2003-2019), career success meant - apart from continuing to earn at a good level - getting lots of personal recommendations from former clients and attracting clients at board level (so-called C-Suite clients). And now, as a budding novelist, career success will mean getting published and doing signing events! I'd love that!
Reflecting on how I came to write my first novel, I've always kept a daily diary so I've done some writing every day since I was sixteen. When I was on maternity leave with my first child I wrote a Mills & Boon style romance which did get an agent but wasn't picked up by a publisher. I flexed my writing muscles as a civil servant because what you're doing all day is reading and writing. Then when I wrote my non-fiction book Internal Coaching: the Inside Story (published by Karnac Books), which is pretty chunky, I discovered that I could manage a book-length project which was helpful.
"Because I've been a coach I'm a great fan of feedback
and have sought detailed feedback on the various drafts of my novel.
To me feedback is simply a route to doing something better.
You don't have to take it on board but feedback gives you the opportunity
to improve what you're doing."
The opportunity to write that non-fiction book came about in 2012 when I did a Masters in coaching. My Professor, who was also my research supervisor, turned out to be editor for a coaching series and he commissioned me to turn my dissertation (about the ethical dilemmas that can arise for internal coaches) into a book. I managed to fit that in eventually, alongside my coaching work, and the book was published at the end of 2013. It was at that stage that I decided I really wanted to write a novel.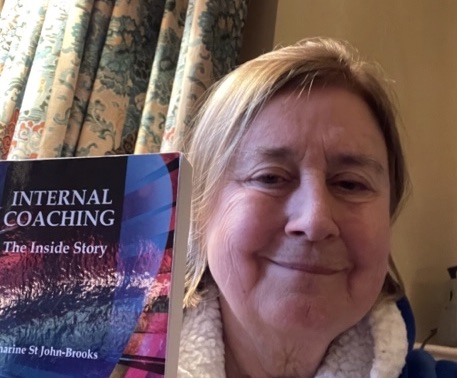 Katharine proudly with her first book, Internal Coaching, The Inside Story
I have always loved reading 'page turners' and I was desperate to write a thriller where the protagonist is an executive coach and the focus of the book is the relationship between the coach and a new client. Since I'd had 20 years working with ministers I thought, 'why not have a minister as the client?' It just felt like a marriage made in heaven. It took me a while to find the time to write it, but now I've finished it and the working title is Blind Faith, because my protagonist's name is Faith and she is a bit blind, for much of the novel, to what is really going on. However, I do know that if I am successful in getting an agent, then they may suggest that the title is changed. One of the things that I've discovered is that my tastes and Faith's sometimes overlap … For example, I love colourful clothes and so does she.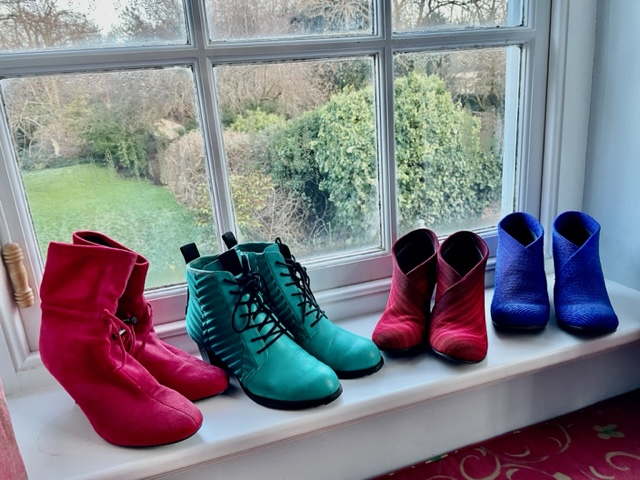 Katharine clearly loves colour, we loved hearing about Katherine's lovely shoes when we interviewed her. A picture of a select few!
As I say, the research dissertation for my Masters in coaching was all about ethical dilemmas. So I thought what fun it would be to write a thriller where the protagonist was a coach who didn't deal with ethical dilemmas very well. There are a lot of pitfalls you can fall into, not least starting a romantic relationship with your client which is never to be advised! I think it's original to have a coach as a protagonist and I like the idea of introducing people to coaching, because a lot of people don't understand what coaches do. So I thought, "I'm going to go for it." And I've had a blast.
In terms of goals for the future, I'm planning for Blind Faith to be the first in a series of three or four thrillers, with each book focusing on a different new client relationship. I'm already working up ideas for the next one! I've no idea if I'll land an agent but I'm going to give it a whirl. Why wouldn't you? But it's not going to cut me to the quick if it doesn't work out. My writing mentor thinks I'll get an agent, but who knows? If you do get an agent, then they work with you for a few months to polish the manuscript before trying to sell it to a publisher. Then, if they're successful, the editor at the publishers helps you to polish the book even more. It's a long process. Alongside that I am co-hosting a podcast about supervision for internal coaches which will be launched soon. I'm having a ball!
Katharine is submitting her manuscript to agents right now. For more information see Katharine's LinkedIn profile here:
https://www.linkedin.com/in/katharine-st-john-brooks-1a07b/
Stay connected with news and updates!
Join our mailing list to receive the latest news and updates from our team.
Don't worry, your information will not be shared.
We hate SPAM. We will never sell your information, for any reason.